Welcome to the Magic Birding Birding & Bird Photo Circuit of Ecuador. The first of its kind in South America, carefully designed for birdwatchers and nature lovers seeking to see and photograph the most amount of Ecuador's 1700 bird species. The Magic Birding Circuit visits Ecuador's most important and biologically-diverse birding locations including our 7 strategically located private birding reserves and our 4 award-winning birding Eco-lodges.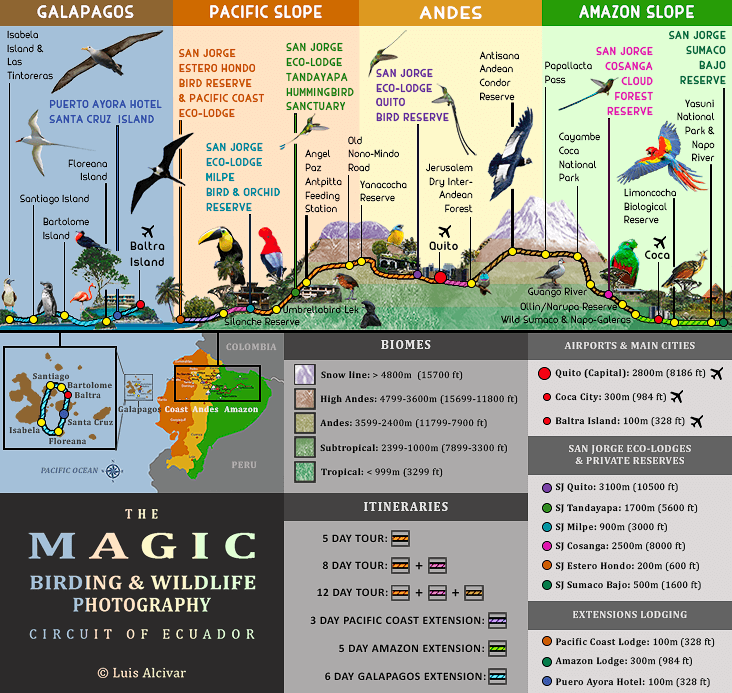 We offer the most complete birdwatching and bird photo trips in Ecuador, the Amazon jungle, and, the Galapagos Islands. Enjoy our scheduled and custom trips with the most knowledgeable, friendly, and passionate Ecuadorian guides.
BIRD PHOTO TOURS

Unparalleled bird photo tours carefully perfected to photograph Ecuador's most spectacular and iconic bird species. Learn a wide range of techniques next to the best bird photo guides of the country.

BIRDING TOURS

Unparalleled birdwatching trips carefully crafted to see the most amount of Ecuador's 1700 bird species inside the most important birding reserves and eco-lodges. The best birding guides of the country.

CUSTOM & PRIVATE TOURS

A more personalized tailor-made birding or bird photo experience to Ecuador's wildest and most biodiverse destinations. Trips completely customized to your dates, preferences, pace, focus, and budget.